What makes the better start page - Microsoft SharePoint or Teams?
2020-05-15
The number of people questioning the purpose of intranet homepages is becoming more frequent. People want to know what are the best digital channels for internal comms to engage employees, and the intranet homepage is often seen to be falling short. No more is this more apparent than for organisations that have deployed Microsoft 365 (aka Office 365), where chat and web conferencing solution, Teams, is the rising star.
It is probably worth highlighting that when it comes to intranets, the pace at which organisations adopt new methods and solutions has always been a little patchy. This means that organisations may have been left with little choice than to use an intranet that wasn't fit for purpose. Common problems of the old generation of intranets included lack of mobile support, or they were only capable of operating as a destination site to consume heavily sanitised corporate news and company policies.
Today the classic content-oriented intranet homepage is under threat from alternatives, like Workplace from Facebook, Slack, and Microsoft Teams. However, there is also a broader marketplace of solutions that address employee engagement, communications, and information and knowledge management in different ways, including intranet-based approaches.
These alternatives mirror a broader shift in user behaviour, which can be seen reflected in how we engage with Web content. For news media, the situation is so bad they are demanding "Google and Facebook would have to pay media outlets for news content". We are embracing rich, short-form content of all types, exemplified by social media apps like TikTok and the newly launched short video subscription service, Quibi.
However, we might want to be careful what we wish for! In a world challenged by information overload and fake news, there may still be hope for the homepage. I have heard during user research projects that employees worry about fake news on internal social networks, so this isn't just a consumer phenomenon.
People also tell us that they find the number of apps they need to use at work challenging, although this doesn't appear to be stopping us from deploying them. At the start of the year, Okta reported that:
"the number of apps per customer is up 6% from last year — 10% of our customers now use 200 apps or more to power productive, secure collaboration."
So in this context, what makes the better start page - SharePoint or Teams?
I explored this question in my recent M365 May presentation*:
It is important to note that Microsoft has a constantly moving roadmap of feature enhancements across SharePoint and Teams (and the rest of the suite), so the issue I raise may change in the future. But right now, there are the advantages and disadvantages of both solutions:
Teams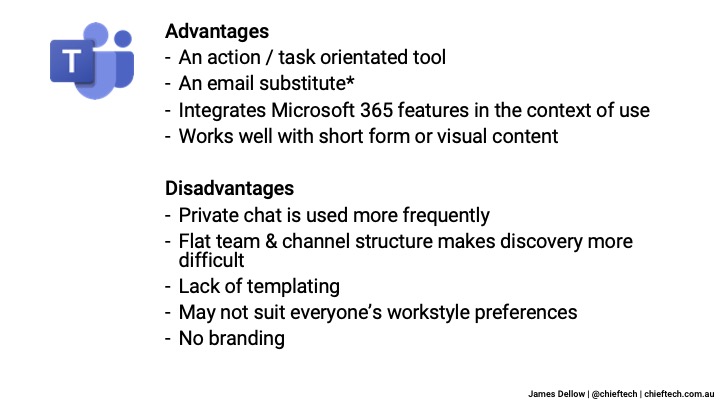 One of the particular limitations with Teams for long-form content is hardcoded into the solution, because each chat message is limited to ~28 KB, including the message itself (text, image links, etc.), @-mentions, and reactions. This is about 2,000 words of plain text.
SharePoint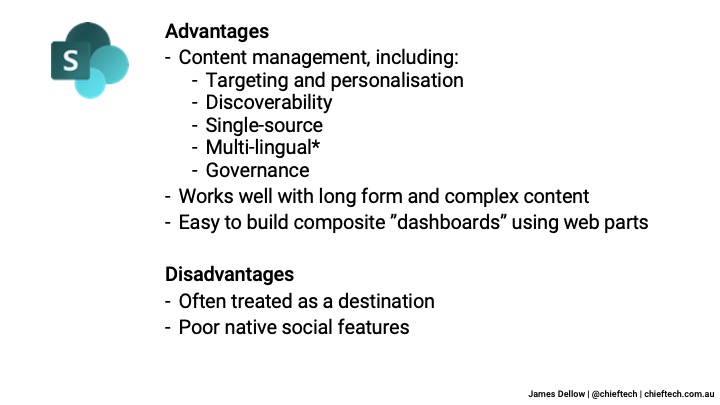 Tabs are also often highlighted as an important integration feature and a way of bringing the best of both worlds together. However, some of you might remember Outlook Folder Home Pages? This was a way to embed web pages into Outlook, but it never really took off.
Ultimately, I don't think that the answer is clear cut. In fact, when I asked people to answer this question in a poll, Teams was the most popular choice, but it wasn't overwhelming: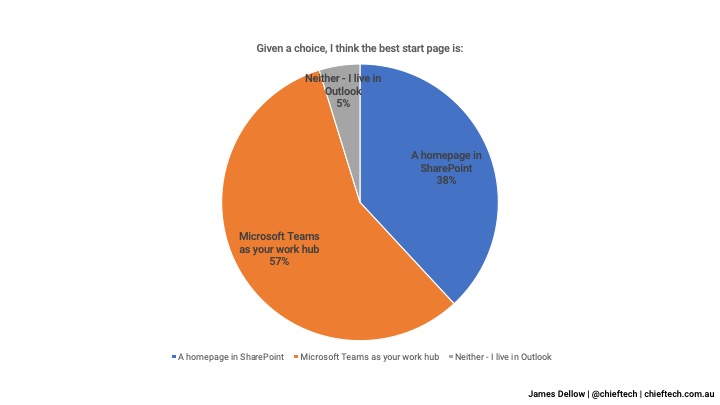 Some of the comments that people submitted with their poll choice provide some context for this:
"Teams is the epitome of one place to go to access all the knowledge and information of the company"

"[the Office365 Homepage] allows me to switch freely between other tools… do not want to replicate everything in a [Teams] tab"

"With the COVID-19 situation [Teams] took off... However the Intranet and SharePoint business hubs we created certainly lost some traction and momentum that it had prior."

"I love Teams. Never use Outlook for internal communications anymore."
There was also a preference split when we look at the breakdown by role: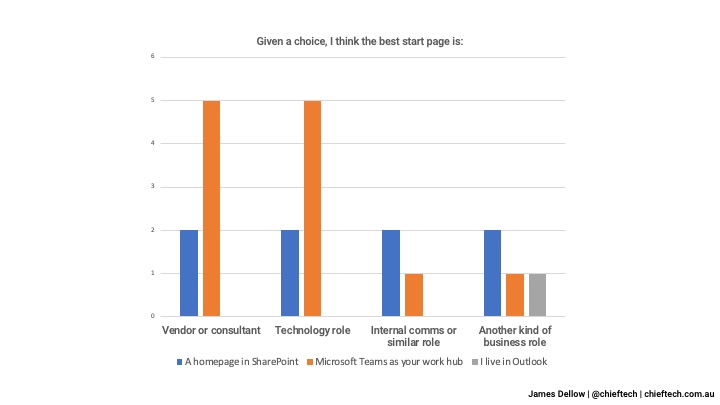 So what should we do?
As I discuss in the latter part of my M365 May presentation, there are several considerations:
Teams is a relatively speaking still a new product and there is both room for improvement and many opportunities to enhance with customisations and third-party add-ons. In fact, this is very much part of Microsoft's strategy (cynically, you might say it is the new SharePoint).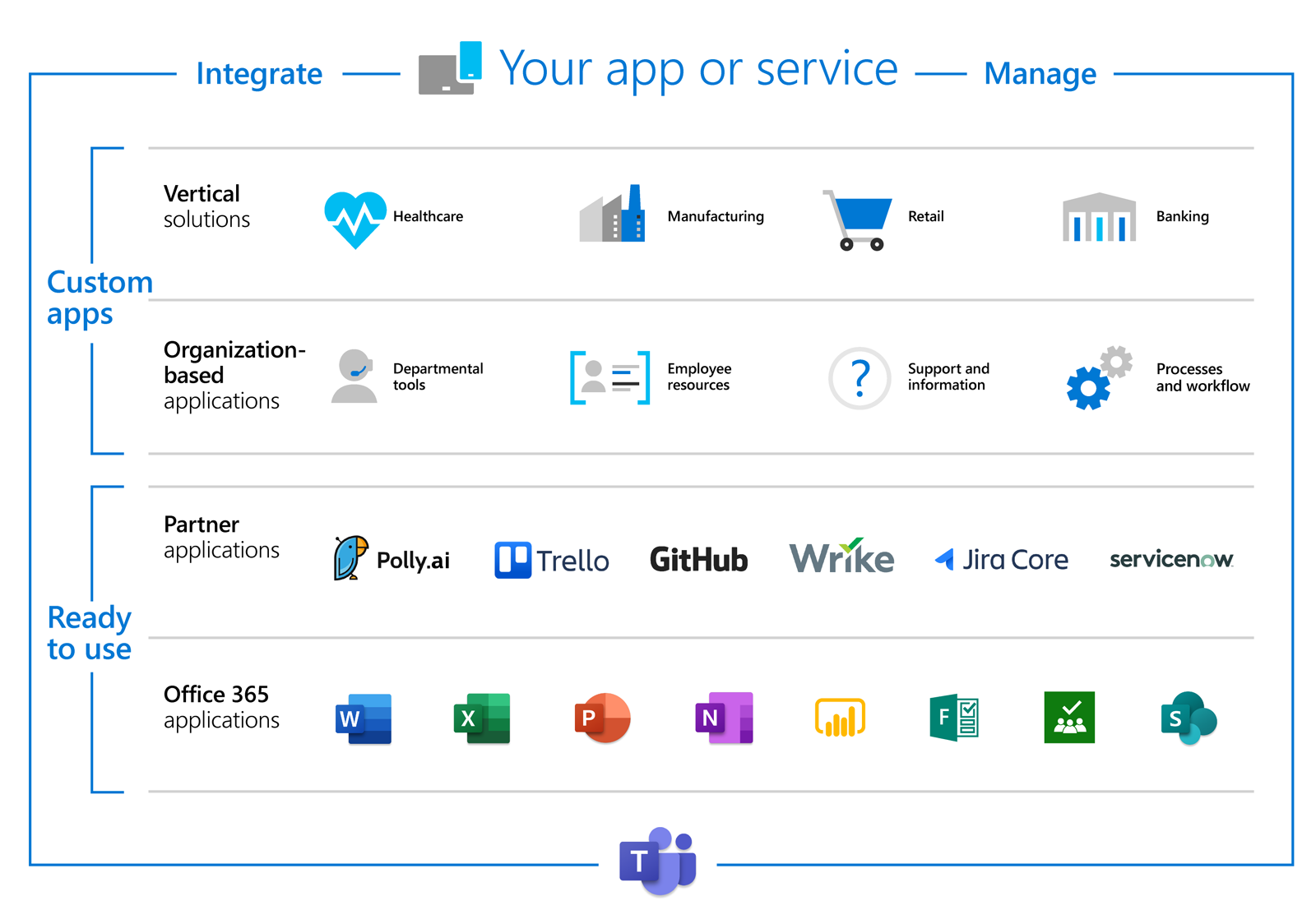 Source: Microsoft.
The other issue is that SharePoint can be more than a destintion site. Often this can be achieved by simply using the right web parts or for more sophisticated use cases by using a third-party solution to extend it. Just remember, we have examples going back as far as the early 2000s that offered more than corporate news, like the BBC's task-based intranet!
Personally, I advocate a human-centred approach because the best solution is the one that works best in your organisation!
This includes thinking about:
The employee experience - the workstyle preferences of your users.
The needs of your organisational stakeholders. For example, what are the objectives of your internal communications team?
Your organisational structure - business unit or departments specialisations may mean that you can take a portfolio approach.
In some cases, Teams might well be the best start page for a whole organisation. But in other situations the best approach might be something more like deploying Workplace from Facebook to frontline staff, Slack to digital teams, Teams for corporate users, Zoom as a common video platform, with Yammer and SharePoint to connect all your knowledge workers together.
My advice is to challenge the idea that one size fits all.
*M365 Saturday is a community-run industry group for administrators, adoption specialists, end users, architects, developers, and other professionals that work with Microsoft technologies. Because of COVID-19, the group pivoted to a month-long online event in May and opened up the opportunity to speak to people across Australia and New Zealand.