Now available: News Board, an app for Confluence Cloud
2020-11-1
I'm excited to announce that News Board my new premium Atlassian add-on for Confluence Cloud is now available! You can try it directly on the Atlassian marketplace.
What is News Board?
News Board meets the needs of teams that use Confluence Cloud as part of their primary toolset but lack an easy way to curate news and other important updates.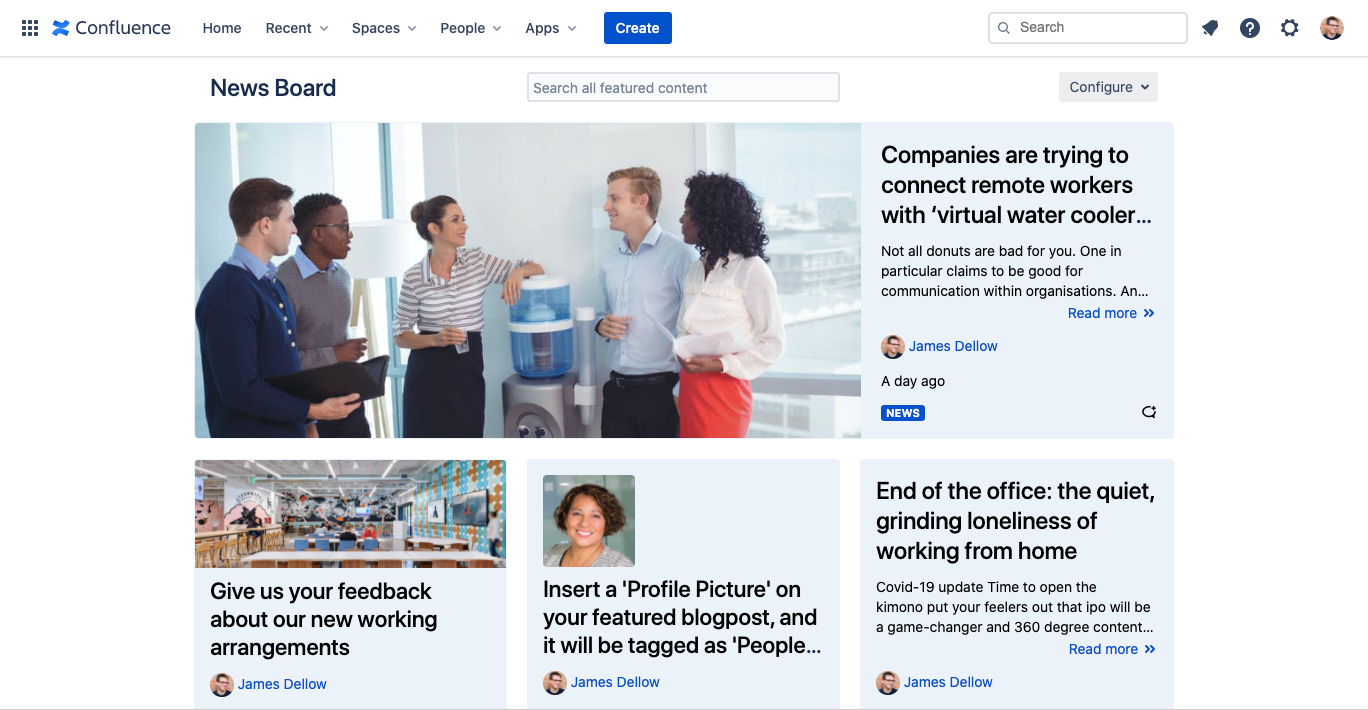 Suppose you are responsible for internal communications or human resources for teams that use Confluence Cloud and wish you had access to something with intranet-like news functionality. In that case, this app is here to help you.
Tip: Atlassian recommends using blogposts in your communications mix:
Communicating via internal blog posts

Best for: Internal announcements about point-in-time events and achievements that won't be updated later. Yes, you could use email in such cases. But putting it on your intranet allows people to share their thoughts by commenting on the page. Nobody wants endless reply-alls of "Hooray!" and "+1!" cluttering their inbox.
However, you don't have to use News Board only for sharing information. You can also use News Board to profile people. The reason for this is explained nicely in research on remote working recently shared by Atlassian, which found:
"One surprising bright spot is that, generally speaking, we're feeling more effective than ever. Individuals have more time for heads-down work, and many teammates feel more connected to each other. At the same time, almost paradoxically, everyone is worried about their work being invisible."
News Board can be used to share news, to alert people about important announcements, for sharing knowledge and talking about the people in your organisation.
News Board also works with anonymous access, so if you use Confluence Cloud as a customer knowledgebase, you can use it to highlight important updates as well.
How is News Board different from News Board Lite?
News Board builds on the success of my original add-on for Confluence Cloud, News Board Lite (previously known as News for Confluence Cloud). News Board Lite currently has more than 500 installs, and it will remain available as a free option but lacks the customisation options.

The extra features in the first public release of News Board include:
Feature pages and blogposts
Custom categories
Custom colour schemes
Rename your news page
Does that mean Chief Technology Solutions is now a vendor?
Yes, I suppose so, but mostly no. I am providing this as a paid commercial plugin because it will help fund the backend infrastructure, ongoing maintenance, and future enhancements. I have quite a list of ideas on the roadmap.
However, I don't anticipate any conflicts of interest in my consulting work because of the niche use case News Board fills. News Board helps to fill a gap in Confluence Cloud, rather than being a reason for selecting it.