New Report: Provisioning and Governance Solutions for Microsoft Teams
2020-12-22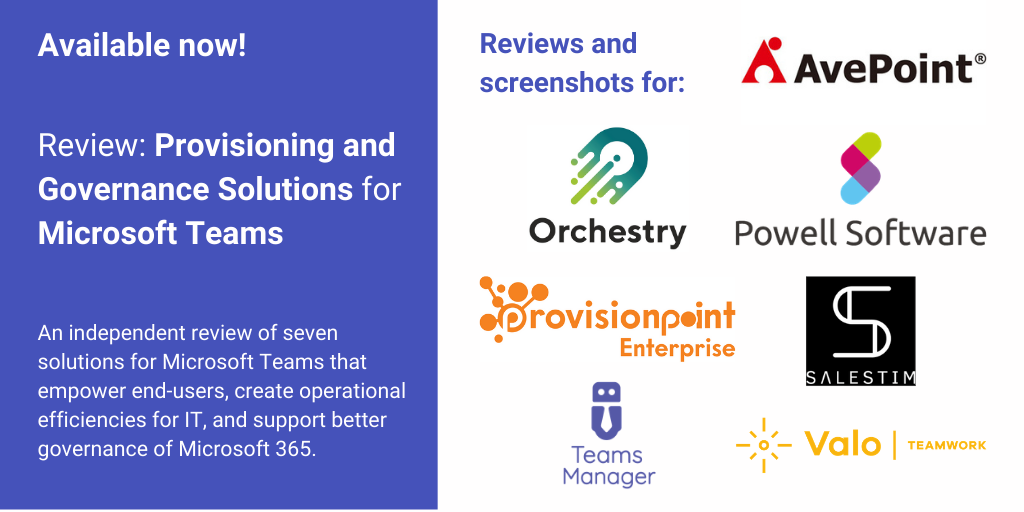 Our New Report is Here!
Our new premium report on provisioning and governance solutions for Microsoft Teams is now available as a digital download.
Written by independent experts, Lisa Gallagher and James Dellow, this report will save you weeks of research and includes analysis to help you navigate the options with confidence.
The report includes:
50+ pages including insights and reviews
7 products reviewed: MyHub in Cloud Governance by AvePoint, Orchestry Software, Powell Teams, ProvisionPoint Enterprise, SalesTim, Teams Manager by Solutions2Share, and Valo Teamwork
28 screenshots
Refer to Terms of Use below before purchase
Why should you be considering a third-party provisioning and governance solution for Microsoft Teams?
Reason #1: Provisioning
Let's talk about provisioning first, because out of the box, Microsoft does provide you with access to a rudimentary templating system. You use a set of built-in templates or even copy from an existing Team. Or your administrators can create custom templates.
But while most Teams properties can be included in a custom template, Microsoft advises that there are still a few properties and features that aren't yet supported. In itself, this limitation may not be a strong enough business case to argue why you need a third-party solution to fill that gap unless it is creating a critical blocker for you. If you are happy to wait, Microsoft will eventually roll out support for those missing pieces.
The other option is to use the PowerShell Patterns and Practices (PnP) Provisioning Engine or the Microsoft Graph API. One advantage of this approach is that you can solve for more complex deployment scenarios, like provisioning Teams and SharePoint at once. Or maybe you just want to remove the Wiki tab!
If you don't want to write your own code or maintain it, then the self-evident benefit of a third-party solution is that the vendor has done this work for you.
Reason #2: Governance
But this only addresses one part of the solution, because what about governance?
Features in the Microsoft Teams admin centre go someway to helping Microsoft 365 administrators address governance requirements, but you can not create dynamic or rules driven-controls. Some native aspects of Teams governance also rely on features provided by Microsoft 365 groups, so we need to coordinate several different elements in Microsoft 365 to implement effective governance. And don't forget about SharePoint and all the other Microsoft 365 and external apps you need to manage to create a useful work hub.
Of course, you could deal with these through the Powershell or the Microsoft Graph API. Power Automate also offers a set of Teams connectors, but are probably a better solution for integration rather than deployment and lifecycle management.
Reason #3: User Experience
However, there is also one other benefit from third-party solutions, which is how they can help to improve the overall end-user experience beyond just providing a more tailored Teams environment. Those extra features can include dashboards, bots, and directories that contribute to usability and discoverability.
The Role of Third-Party Solutions
The reality is that the functionality provided to you by Microsoft in your tenant are only ever going to skim the surface of what is possible and what might be needed to meet the particular IT, governance, and operational requirements of your business.
But while we believe that third-party provisioning and governance solutions for Microsoft Teams are well worth considering, our review of the solutions included in this report also highlighted that there are some crucial differences and issues to consider when picking a solution.
What's in the Report
The report is written for Microsoft 365 administrators, power users, and governance and risk managers and is packed full of insights and an independent review of seven solutions for Microsoft Teams. We explain how these solutions work, why they are worth purchasing, and who they benefit most.
Each review is five-pages long and follows the same structure, to help you compare products. Our reviews focus on highlighting the functionality or technical issues we think are essential across the following topics:
Provisioning
Templates
Governance
End-User Experience
Management Dashboard
System
Plus we provide information about the vendor's product roadmap and ecosystem. You can find a definition for each of these elements on the next page.
The reviews also include:
A dot point list of template & provisioning features
Information about how they support customer success and how to buy
Two pages of screenshots
The Review Team
Lisa Gallagher, Lead Reviewer - Lisa is an experienced technology consultant who has worked across a variety of industries as a data and information management consultant, educator and technical professional. She has worked across the Microsoft stack since the early 1990s and has deep experience in SQL and SharePoint technologies. Her current Microsoft certifications include MCSE Data Management and Analytics and Microsoft Certified Trainer. More about Lisa.
James Dellow, Editor and Reviewer - James is the founder and director of Chief Technology Solutions. He specialises in consulting on digital workplace technologies that help people connect, communicate and collaborate, including Office 365 and SharePoint. James works with SharePoint and Office 365 advising on strategy, governance, user experience design, information architecture and content management. More about James.
Get the Report
US$199 (+ GST for Australian customers)
Terms of Use
We expect you to do the right thing, considering the time, skill and labour invested in the development of this report. No part of the report can be resold or shared in any other form without the written permission of Chief Technology Solutions. We will tag your copy of the report with your email address. If you purchase the report directly using a corporate email address, feel free to share it internally with other employees of the same corporate entity associated with your email domain. If you purchase using a personal email address, it is provided only for your personal and professional use and may not be distributed or shared with others. Are you a consultant or advisor? Don't pass off our work as your own. If you use information from the report to provide advice to your clients, you must appropriately credit Chief Technology Solutions.