Is Microsoft Teams a Collaborative Work Management solution?
2020-09-15
My past interviews for my research in collaborative work management have explored the bigger picture of what the software tools have in common, and I've also looked at the people and leadership perspective. Those conversations were an attempt to test if the concept of collaborative work management was a useful idea or not. On balance, despite the clunky terminology, I do think it does. It may even be more critical in the context of the current pandemic, where organisations have rapidly adopted new ways of working.
However, so far, I've avoided trying to single out any particular tool. One thing I've learnt is that collaborative work management remains a broad collection of solutions that are attempting to address some common needs, rather than a specific set of features. But throughout the investigation, there is one particular question about one tool that I keep coming back to: is Microsoft Teams a collaborative work management solution?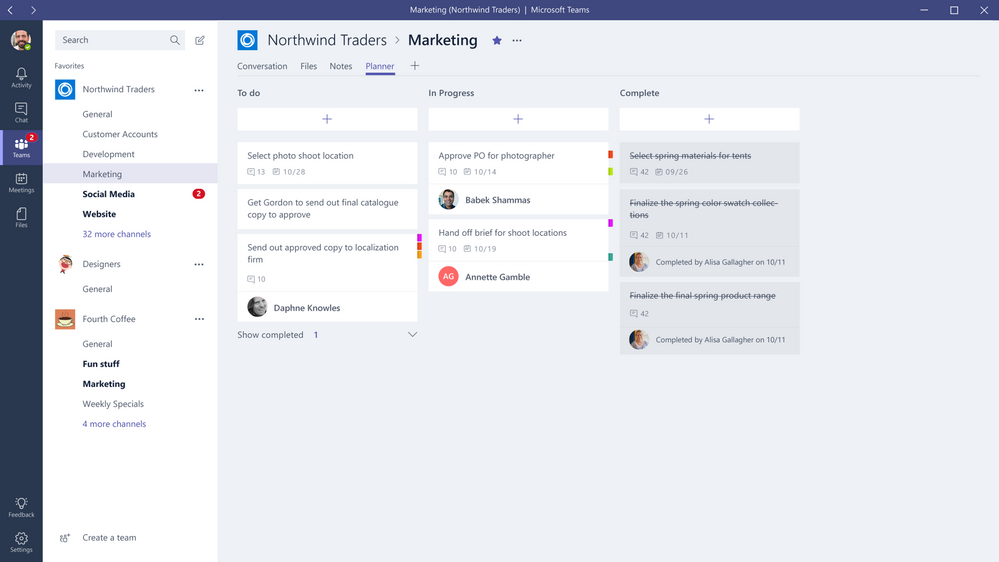 The Planner tab in Microsoft Teams. Source: Microsoft.
While I have some views on this, my method for this research project is to seek out insights and ideas from others so I can either qualify or challenge my perspective. Putting out a call for interviews, I ended up talking with a couple of other experts:
Philip Clapham, Collaboration Specialist at Telstra, with twenty-five years working in the collaboration domain, including extensive experience with Microsoft technologies.
Michal Pisarek, who is Chief Executive Officer at Orchestry Software and a Microsoft SharePoint MVP.
Michal and Phil both bring a slightly different perspective to the discussion, although you will see I draw some similar conclusion from my interviews with them. One thing both Michal and Phil agreed was that the phrase "collaborative work management" isn't very meaningful. Phil described it as "collaboration with some oversight", which isn't a bad way of thinking about collaborative work management. There are layers to collaborative work management, which is one reason why it is a little hard to pin down a clear definition. But in the context of understanding if Teams is a collaborative work management solution, in many ways, it turns out we need to deal with defining both to understand how they fit together.
Where does Microsoft Teams fit in the collaborative work management equation?
Even before the pandemic struck, Microsoft Teams was already emerging as an important new solution in what is now known as Microsoft 365. It combines the meeting and telephony features of what was Skype for Business with an enhance group chat capability, all hosted in a modern cross-device application that is integrated deeply with the Microsoft 365 suite. On the face of it, Teams looks like a solution that can address the criteria I established for collaborative work management. But just as there are many layers to collaborative work management, I can also see many layers to Teams that could either go above and beyond what is offered by other vendors and even limitations that might rule it out.
In talking through with them, one of the most interesting issues raised by both Michal and Phil was to look at Teams in terms of the problem it is trying to solve and equally as relevant, how Microsoft goes to market.
Microsoft often describes Teams as a hub for teams. From Phi's perspective, Teams is primarily "a portal into the world of Microsoft 365." But as a kind of work hub, he pointed out that it "doesn't apply any structure".
Michal also alluded to this and described it as "a chat-based abstraction on top of Microsoft 365." However, he also felt that "Microsoft has the challenge of trying to understand exactly what Teams is."
Phil commented that "the way that Microsoft works is they will produce something and give no guidance around how that something is supposed to function. But this is the reason why they have a partner community because Microsoft doesn't know how it's going to be used, and so the resellers help work it out."
So potentially, could Microsoft Teams' fit as a collaborative work management solution be in the eye of the beholder? That's not an unreasonable proposition when you consider other collaborative work management solutions are either unstructured or multiple-purpose - for example, Notion or Airtable.
Phil also talked about the importance of being able to support the meeting lifecycle. My definition of collaborative work management doesn't include meeting support as such. Still, the argument here is that Teams makes it easy for people to move between coordinating work to collaborating on the work to be done.
Similarly, Michal also believes that "the big advantage [Microsoft Teams] has over a lot of the competitors is it does concentrate on one of the more important tools, which is meeting and calendar management."
Michal also thinks another benefit of Teams is the ability to support not just people working together inside the same organisation, but also across organisations.
"It's something that is rarely talked about, and I know a lot of the tools that have been developed traditionally haven't really thought about external guest access."
Based on my own experience of using Teams across multiple organisations, I don't think the user experience is quite there yet. Still, I do agree with Michal that the fundamental capabilities exist within Microsoft 365. And indeed, cross-organisational collaboration is something we would expect to see a growing need to support, where it becomes the norm, not the exception.
What about the free version of Microsoft Teams?
At this point, we can agree that Teams has a role to play in supporting collaborative work management, either as a work hub or facilitating real-time meetings. This still doesn't wholly answer a more pragmatic question about where it fits explicitly alongside other tools.
If you are already using Teams through a Microsoft 365 subscription, you may not be aware that Microsoft does offer a free version of Teams. The advanced features available in a paid subscription are mostly related to usage limits, like storage quota, IT controls, and support. To put Teams into a comparative product category, we should check how well this standalone version can be used as a collaborative work management solution.
Unfortunately with the free version you don't have access to the Microsoft 365 services that could be used to help coordinate work, like Planner, or for automation, the Power Platform. However, you do have access to Excel through an embed tab. Or you can install one of many third-party apps, which include other collaborative work management solutions, and other project and task management tools.
But the most prominent functional gap in the free edition is meeting scheduling - you can host a meeting and schedule in advance, but there is no built-in calendar. This might be something that Microsoft could fix, as alongside Teams you do also get access to a free Microsoft account that includes Outlook and Power Automate. However, the free edition of Outlook only supports Skype meetings, and Power Automate won't connect to your Teams instance.
Talking this through with Michal and Phil, neither were clear about the functional purpose of the free version of Teams. Phil thinks that it is simply "to drive businesses into a paid Microsoft 365 subscription. More of a try before your buy." My conclusion at this point is that the free version of Teams isn't a serious contender in itself, let alone as a stand-alone collaborative work management solution.
Michal concurred with the point, saying it is "definitely more of a Microsoft 365 question."
But does this also means that Teams shouldn't be treated as a collaborative work management solution unless we include a bundle of enabling components from Microsoft 365 and the Power Platform?
How do you use Microsoft Teams to support collaborative work management
Even if Teams isn't a stand-alone collaborative work management solution, we do have the opportunity to mix it with other Microsoft services or third-party tools to create a solution.
"Teams is a blank canvas," Phil explained. "Microsoft gives you the building blocks, the modules, and then you have to go through that process to build it."
Again, this is where we need to recognise that Teams isn't designed to be a collaborative work management solution; however, it does provide a gateway to the attributes I've identified as being important. Perhaps the most relevant of these is that Microsoft Teams is extendable, either through third-party apps or customisation, which according to Phil, is "what makes teams so complicated yet powerful when it's done correctly."
But he also thinks we have to be careful about how we go about building that solution in Teams.
"You need to spend a lot of time understanding how an organisation operates from top to bottom before you can build even something that resembles a collaborative work management solution on Teams."
"This is why Power Platform so important to Teams because as you go through the exercise of breaking down what someone does and how do I get them to adopt Teams, you find all the bits of their processes that need to be automated."
But as Teams is still a relatively new product, Michal also believes that there is still potential for better and deeper integration. Many integrations are still lightweight, like exposing a third-party app in a tab, rather than two way.
"The next level of integration I would like to see, from a technology standpoint, is true integration between all of these pieces. But it's complex."
"I think the model that Teams has gone down, and it's probably why it's been so successful, is users have that option to use the base functionality or bring in another best of breed tool like Asana or Wrike or anything else."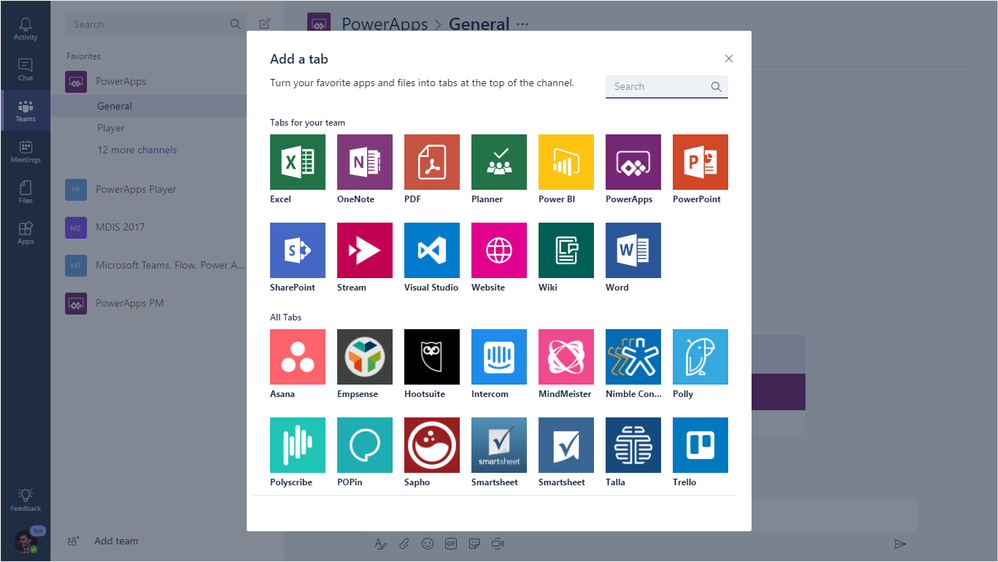 Adding an integration tab in Microsoft Teams. Source: Microsoft.
However, this does highlight what I think is a curious problem with this open model in Teams, is the reason many organisations choose Microsoft 365 is for better control over information. Yet, on the face of it, these other apps may make this more difficult. Is that the trade-off when you accept that there isn't a single solution that suits everyone?
In Phil's opinion, he said, "I don't think Microsoft has all the answers, but perhaps, more importantly, they recognise they don't have all the answers."
Returning to Team's native support for chat and meetings, we also can't escape the indirect benefits this brings to collaborative work management, particularly with the rise of working from home or the hybrid style of work we appear to be gravitating towards.
Michal thinks "It's vitally important. With the whole shift to working from home, people still need that face to face contact."
Phil also talked about the fact that when he is helping people to adopt Teams, one of the first principles he puts in place is that they agree not to use email for internal team communication. This has two potential benefits. In my opinion, the first is that this in itself encourages people to adopt better methods for sharing information. However, Phil's focus is on improving the fidelity of communication.
"What email does for me is it creates ambiguity and creates a reason for us not to communicate with each other. The only way to resolve it is to speak to each other."
My point of view
Microsoft Teams is not a collaborative work management tool itself; instead, it is a container for you to build out your organisation's work operating system. Within that system, you can connect the set of Microsoft 365 or third-party tools people want or need to support collaborative work management.
That's doesn't mean Microsoft Teams is a perfect portal and the challenge of a blank canvas is that you need to trade off flexibility with the effort to build that customised solution. The range of integrations currently available might also create additional friction.
And in light of the current pandemic, knowing that Teams is being adopted at an even more rapid rate than before, thinking about how you want to use it for collaborative work management could be an essential aspect of your long term governance.
As Phil told me, "The pace of change has been very rapid over the last couple of months because of Covid-19, but it was always happening."