Let's talk about collaboration and work management
2020-06-09
At the beginning of April, I started a research project looking at the "Collaborative Work Management" software category. As a short recap, I think it's fair to say that the category is primarily one created by analysts. However, I do believe that the solutions found under the umbrella of collaborative work management are meeting a need; we just need to make better sense of it. This project involves exploring different perspectives so we can map the space and find out how to get the best out of this technology.
Since then, I've been a little quiet as I've been working on making contact with vendors and other people interested in talking about this topic. The post is an update on some of this initial research and thinking at this point, although it focuses primarily on vendor conversations.
What is collaboration (in collaborative work management)?
Collaboration has origins in the Latin for 'work together'. But what does this mean when we want to understand the role of technology in collaboration? I don't want to get bogged down in this particular discussion, so suffice to say there are equally valid but different perspectives on this (I'm sure you have your ideas on this too). I also believe that collaboration in a workplace also occurs within a socio-technical context, which explains why a group of people using a piece of technology can have a completely different outcome to another. In short, it's complicated.
I noted at the outset of this project that solutions labelled collaborative work management is an odd collection. And while the topic of collaboration is complicated, I don't believe this thoroughly explains or excuses the lack of clarity in defining or understanding collaborative work management better.
It is helpful listening to how vendors describe what they believe their tools are designed to achieve. What follows is some of what I heard:
Organisational complexity
Work gets done in teams, but they need better ways of working together to get things done.
"Teams—whether cross-functional or functional—are now the primary unit of work, but organizations haven't adapted their structures around team success", said Dan Pupius, Range's CEO. "They struggle to create environments where teams can balance performance and well being in ways that create true value for the entire organization. Managers are hard-pressed to track and encourage progress, and individual contributors easily get out of sync with each other's work and where they should be focused."
For Dean Swan at Monday.com, this is a symptom of today's work environment which is "highly distributed" and "people are struggling to coordinate and synchronise across teams". He told me that the net result of this is "more often than not, is that in every team or department, the majority of processes are ill-managed."
Chelsea Lefaivre at Sensei Labs also pointed out the need to respond to how teams now work. "We've understood the value of bringing in multiple, diverse perspectives, companies are more global, which naturally brings in more complexity - but if that's not managed correctly, it can also make working together more complex and introduce a lot of friction."
Alignment, agility, and flexibility
Some vendors emphasised the need to support the overall capacity of teams to work together, which is as much as about transparency, accountability, and engagement as it is task management.
Alicia Hunt at Koan explained to me that goal management "is a collaborative process across teams, not solved by individuals. At the executive level, Koan communicates with all users about key priorities and initiatives, to keep users aligned and informed."
Shane Metcalf, Co-Founder and Chief Culture Officer of 15Five, spoke of their product as being "a solution that helps organizations pivot quickly without sacrificing communication, engagement, and alignment."
Tool and information proliferation
This insight probably isn't a surprise, but I also heard from many vendors about the various challenges that tool and information proliferation have on collaboration.
"Collaboration is spread out across dozens of apps right now, and it's not organized", said Steffi Sekar, representing Kissflow. "You don't know where to find discussions and data. One type of work requires one tool, another requires a different one. A digital workplace should be more unified and more functional than this."
Chelsea Lefaivre at Sensei Labs also talked to me about the importance of information management. "What we hear from a lot of our customers is that Conductor solves the single source of truth problem most. Being able to take large amounts of data and make it easy for people to work with, to get actionable insights from and get on with their day without getting lost in multiple tools or having to spend a lot of time aggregating and processing that information from multiple sources."
Dean Swan at Monday.com also mirrored this sentiment, who said that teams "resort to emails, spreadsheets, and endless meetings to get work done. These teams have different and conflicting priorities. They tend to use their own tools and act as their own siloed units, which leads to friction between departments, and ultimately to a lack of transparency as they try to collaborate."
I think automation also has a role to play here when we consider that tools can help nudge and prompt us to take action. For Koan, Alicia Hunt explained that "Each week Koan prompts you to reflect on the progress of your goals and your level of confidence that you will successfully complete your goals. This weekly cadence keeps the priorities clear and brings alignment into tactical day-to-day focus."
What does this tell us about collaborative work management?
The quotes above are just a selection of the discussion and feedback I've received from vendors in recent weeks that I've been analysing. While this may change as this project progresses, at this point, I have identified three attributes that I believe should be common to any collaborative work management solution:
They help people to achieve objectives as a team of teams.
They provide people with access to an authoritative, shared source of information.
They become embedded in the flow of work through no-code or low-code automation and integrations.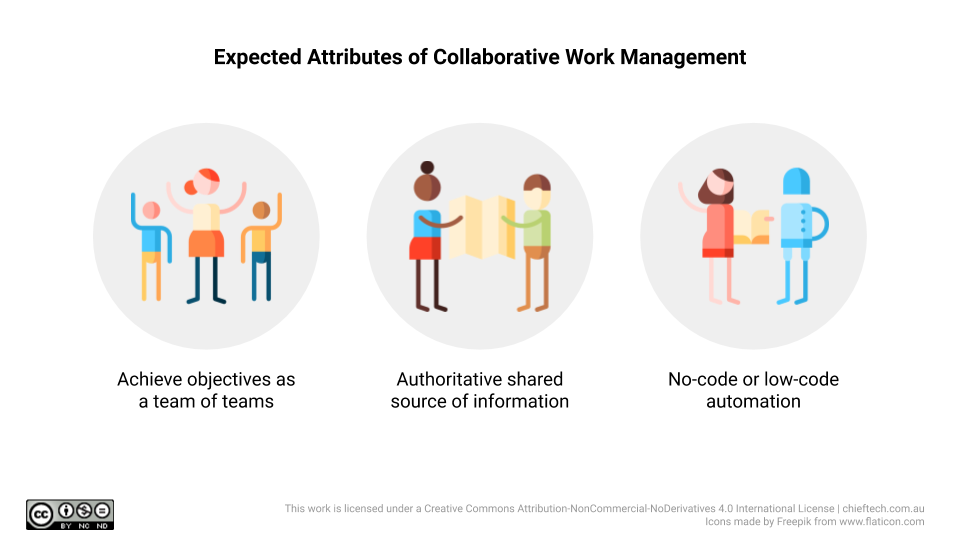 It is not necessarily about a product having social or other real-time collaboration features as a defining attribute, but this is often critical to the proper functioning of the attributes outlined above.
I should also mention that the reference to 'team of teams' is about a management concept developed by former management consultant and social entrepreneur, Bill Drayton. It describes a new organizational model:
"The team-of-teams model emphasizes decentralized autonomy, meritocracy, and a sense of partnership. Instead of maintaining a traditional structure in which people work in hierarchies based on a function or a formal business unit, an organization operates as a constellation of teams that come together around specific goals. At the center of this constellation is a coordinating executive team, but the composition of each project team shifts over time. Teams and team members work together in continuously evolving ways."
The team of teams concept has also been popularised by General Stanley McChrystal, who wrote about his experience as a special forces commander and the network-based approach he adopted.
My take on this concerning collaborative work management is that it should be about supporting how people want to work together, but not through micromanagement or forcing a particular paradigm of collaboration or a fixed process.
I think Shane Metcalf at 15Five positions this best when he talked about it being a "new era of welcoming humanness at work".
Steffi Sekar at Kissflow, also commented that "Remote work seems like it dehumanizes people by taking them out of the office, but in reality, it makes you double down on all the human tasks you are doing."
Because of Dropbox's collaborative features, they also fall within the scope of my research. Speaking to them about this, they reiterated this point in the context of the COVID-19 crisis. It has made work messy and stressful for some, but it also feels more real—more human said Bharat Mediratta, CTO of Dropbox. "Employees get a glimpse into teammates' homes and their personal lives on video conference calls. They share hopes and fears. They see, hear and experience each other as whole people."
The other point to note is that different products have different scopes or spans of control across the work being done. Some products are deliberately stepped back from being where work gets done, while others offer to connect the dots or offer to be a place of work. This issue of scope is one area that I'll be exploring further because I think it may bring some clarity to the category, rather than focusing on features.
For example, Monday.com wants to aspire to be a work operating system or 'Work OS'. Dean Swan at Monday.com describes this as "where teams create and shape their own workflow apps in minutes, code-free. Managers and executives get immense value from it due to the visibility into employee's work and are able to make data-driven decisions. It's equally great for the teams that are executing the work. They love it because they don't have to worry about those manual, admin tasks and can truly focus on the work that requires their talents."
There are also some issues related to knowledge management and user experience that also came up through this initial discovery process, which I will also be exploring. On the relationship to knowledge management, a lead into this might be something like Patrick Lambe at Straits Knowledge who has previously talked about the role of knowledge sharing as being coordinating, remembering, and learning. Naturally, there is a focus on coordinating in collaborative work management, but what about remembering and learning?
Collaborative work management also appears to be generally focused on supporting the needs of knowledge workers, rather than frontline workers. However, this is another assumption that needs to be tested.
That's my hypothesis right now, and I'll be testing this further with people that are using a collaborative work management approach and with vendors. However, I do want to share some additional observations and commentary.
A common frenemy
Somewhat reflected in the comments above, there was a recurring pattern with many people I spoke with about the role of spreadsheets as a substitute or a precursor to a designated collaborative work management solution.
The problem of spreadsheets is particularly interesting because while I've yet to speak to anyone yet at Microsoft about collaborative work management, Microsoft 365 contains a mix of generic and specific tools that could play this role. Microsoft also recently announced another contender tool, their new Lists app.
With that in mind, I asked them a broader question about the relationship between the mainstream generation of productivity software (like spreadsheets, email, PowerPoint, etc.) and collaborative work management. I wanted to know if those productivity software tools had let us down or failed to live up to their promise?
The consensus is that these productivity tools weren't designed for collaboration in a meaningful way.
Dan Pupius at Range probably argues it best when he says that "they haven't failed to live up to their promise - most of them actually deliver on their promise - it's just that that promise wasn't necessarily about real teamwork, at least before a marketing team got involved. When you start with teamwork at the top of your list, it leads to a very different type of collaboration software than what most people use today."
To Dan's point about starting with teamwork, I think we need to think about the impact on team cognitive load when using the productivity tools on hand for collaborative work management. It's not merely about task switching, but what happens when we are pulled out of the flow of work or forced to check that information or communication is still current.
The impact of Covid-19 and the shift to more distributed working
Finally, from the perspective of the great working from home experiment, I was curious to see how vendors felt it might impact how we work in the future.
Both Dean Swan at Monday.com and Dan Pupius at Range made some excellent points to me about the failure of the modern workplace before Covid-19 that put this question into perspective.
Dean said "Looking at the modern workplace, before COVID lots of people were already struggling, we are working long hours with the workday used to have a beginning and end but now is becoming seemingly endless, while at the same time labor productivity has been flat-lining and even declining. Employee engagement was on the decline, while burnout was on the rise. In a post-COVID-19 world, there will be an even greater premium placed on our ability to focus and on asynchronous collaboration."
If that sounds familiar, Dan also mentioned something that I strongly agree with about successful pre-existing remote teams. He said that they had learnt "to be more intentional about their interactions: how information flows, how decisions are made, how teams feel connected."
Unfortunately, according to Dan, "Many business processes turn out to be based on informal and ad hoc interactions" but "the reality is that the informal practices didn't even work well for everyone in the co-located office. And in larger co-located offices, teams might be spread out across different parts of the building or campus, making them essentially remote."
The good news is that he also said: "Many of the companies we work with are starting to view the silver lining of this situation as an opportunity to use asynchronous communication and to be more intentional about cultivating the social fabric of their teams."
There was a similar note of optimism from Alicia Hunt at Koan too. "The shift toward remote work will have long-lasting effects, and we've seen the increased use of tech-based platforms, including goal management solutions, which have allowed workers to stay connected and collaborate."
Bharat Mediratta at Dropbox also hopes businesses hold onto these lessons. "The crisis has also given us a chance to get out of auto pilot and rethink some of the work norms that have crept up on us. For example, some of us are adjusting things like the meeting culture and turning meetings into an email, a Slack message or a comment thread on Dropbox Paper instead."
"We see leaders prioritising the physical and mental health of their teams and we see organisations build resiliency, adaptability and the capacity to take on the unknowns as these emerge."
Back in March, I co-wrote a paper with my friend Matt Moore about how Australian businesses were responding to Covid-19. Talking to Matt about this, he observed: "The issues we've seen in the great working from home experiment with video conference fatigue suggest we have a serious work coordination problem, which we are trying to solve by having lots of meetings."
"That indicates that even if this collaborative work management category appears somewhere confusing, there is a major need to be met here."
I agree. We just need to understand it better and look in more detail about how technology, work practices, and culture can help to create not only a new way of working but a better way of working.
Additional acknowledgments: I would also like to thank Yana Ramazanova at Kanbanchi and Aravind Rajkumar at Zoho for their input, which contributed to this article, and feedback from Gavin Haak.